 The New Zealand Memorial
Hyde Park
04.65
Athfield Architects Limited in association with Dibble Art Company teamed to win this international design competition. The design brief for the Memorial was to commemorate the special relationship between Britain and New Zealand during and since the World Wars. The memorial is 16 bronze sculptures set out in formation across the grassy slope overlooking Hyde Park corner. Rather than individual objects, the intention is that together the sculptures claim a space in the landscape for reflection andmemories.
The sculptures take the form of inclined cruciform shaped standards. They are set in the ground like pou whenua, Celtic stone formations, or a group of warriors performing a haka. The tops of the standards are cut at a diagonal plane revealing, from a distance, a series of crosses 'hanging in the air'. Some of the standards are configured and lit in a manner that recalls the Southern Cross constellation when viewed from thesouth.
On closer inspection the patinated bronze surface of the standards are textured and scored with modelled icons, imagery and text that recall histories and stories from New Zealand and its shared culture withBritain.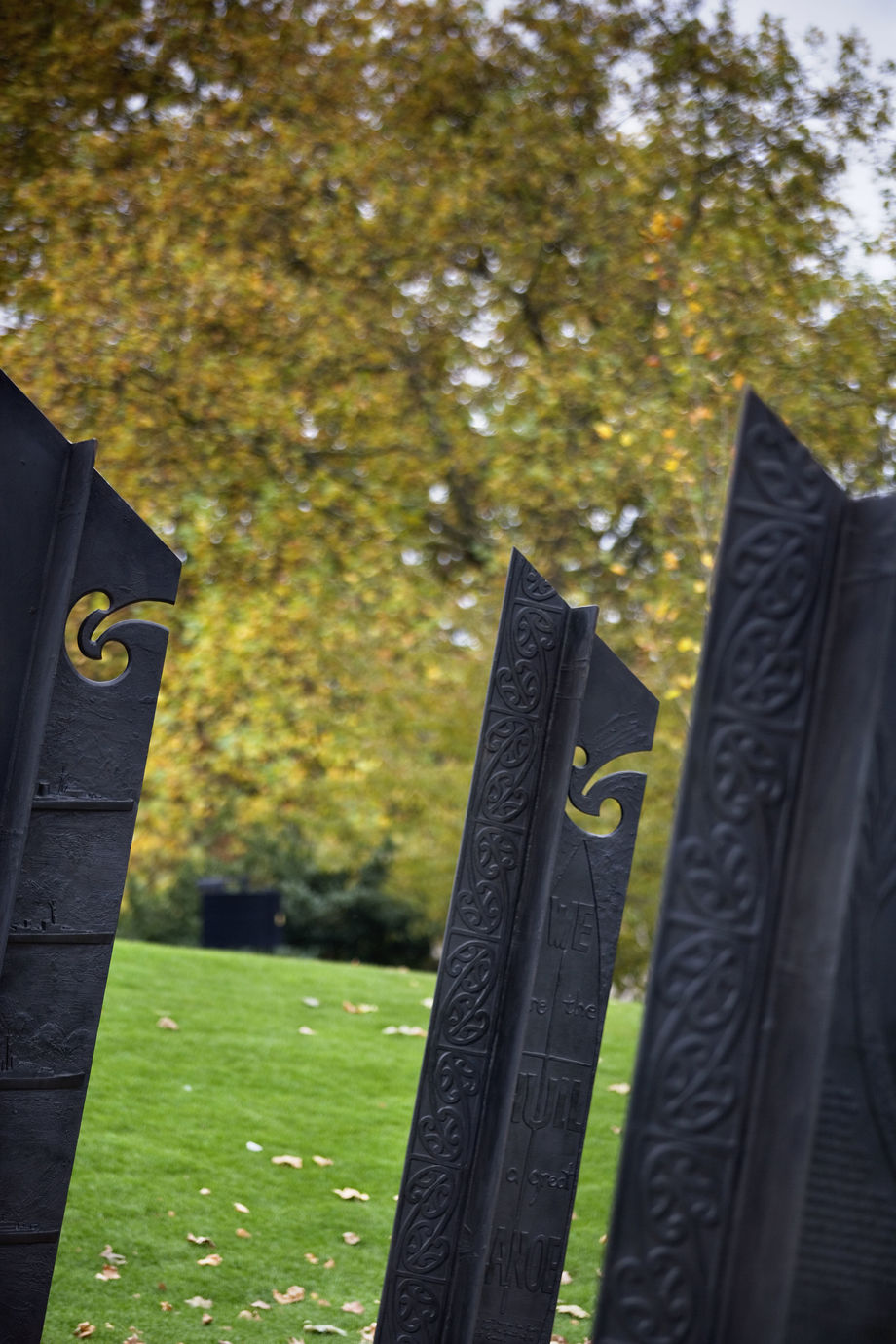 Implementation involved widespread consultation with governmental, non–governmental and general public stakeholders that included nine separate residentsassociations.
The simplicity of the memorial and tranquillity of its setting belies the very complex nature of its urban site. It is sited over a highway tunnel and the Picadilly tube line, is encircled by a London arterial road, is within view of Buckingham Palace grounds and is in the setting of a historic landscape, significant listed monuments and othermemorials.
This winning project was opened on Armistice Day, 11 November 2006 by Her Majesty Queen Elizabeth II, with members of the Royal family, then British Prime Minister the Right Hon. Tony Blair, and the then New Zealand Prime Minister the Right Hon. Helen Clark alsopresent.