 Massey University
Te Ara Hihiko
09.59
The structure includes the world's first multi-storey post-tensioned timber frame, resting on a conventional masonry and insitu concrete plinth. The structural design enables the building to 'rock' open and closed as the frame sways in an earthquake and incorporates damage avoidance design principles allowing for early occupation of the building following an earthquake. The simplicity, regularity, and proportions of the post-tensioned LVL frame eliminate the requirement for fixed structural divisions on the upper two levels and allow a wide range of spatial layouts, fit out and uses over time. The frame is highly articulated and expressed from both inside and outside, contributing strongly to the character of the building. The building is arranged on a north-south axis and comprises a pair of vertically stacked, lofty but lightweight linear studio 'containers' that straddle the escarpment, stepping down the contour and enveloping a major new circulation route connecting the upper and lower terraces of the campus, inspiring the Maori name of the building, Te Ara Hihiko; 'the creativepathway'.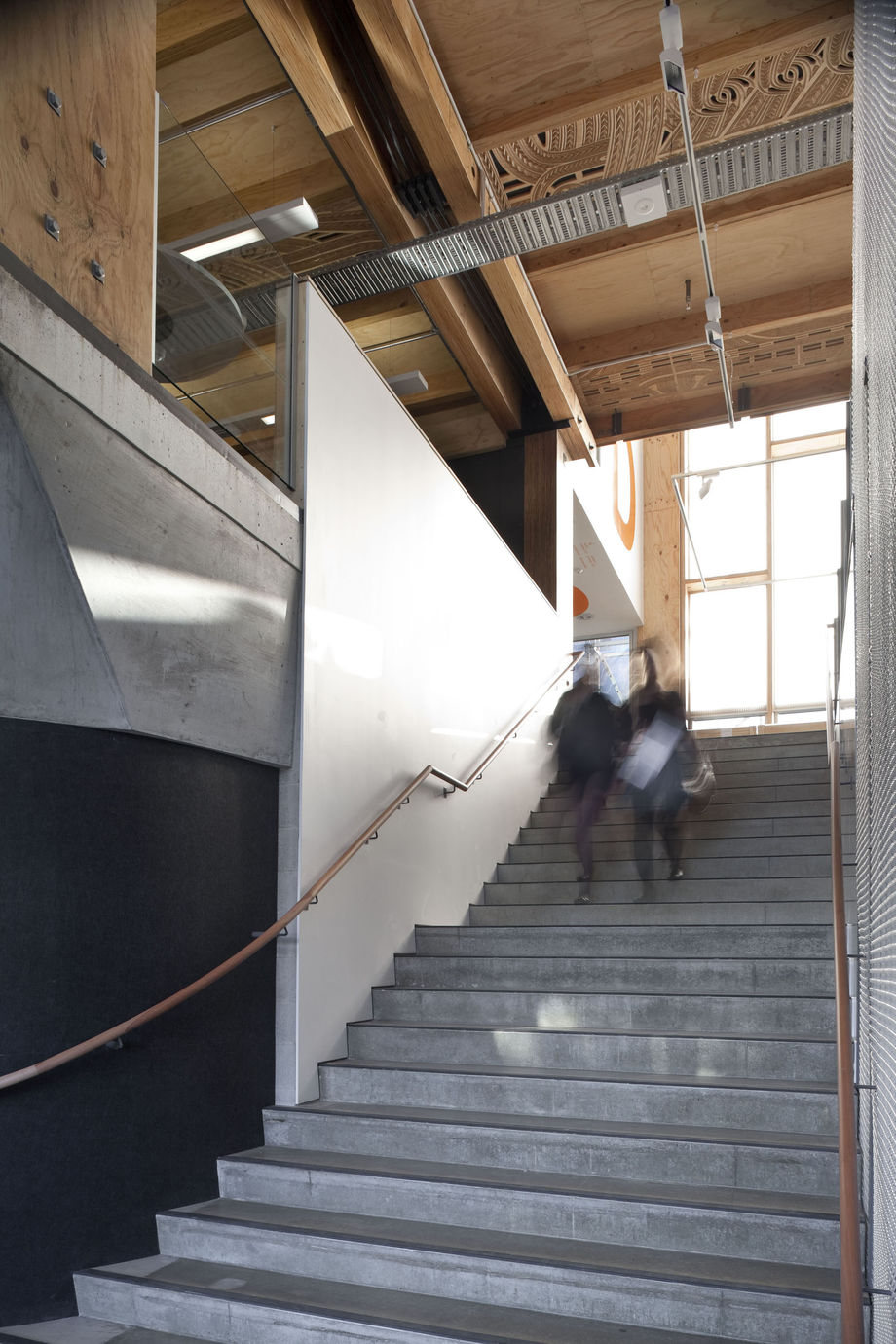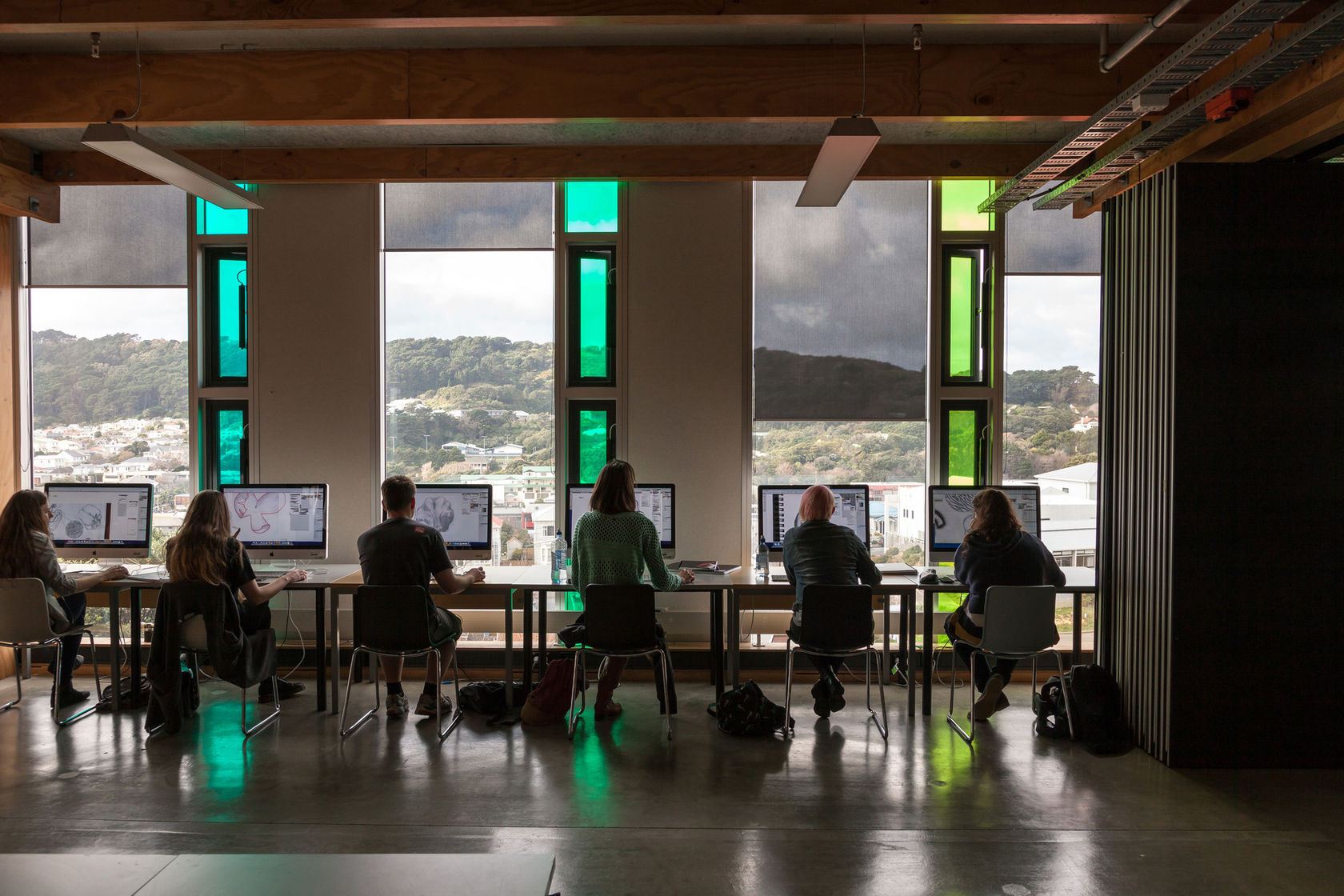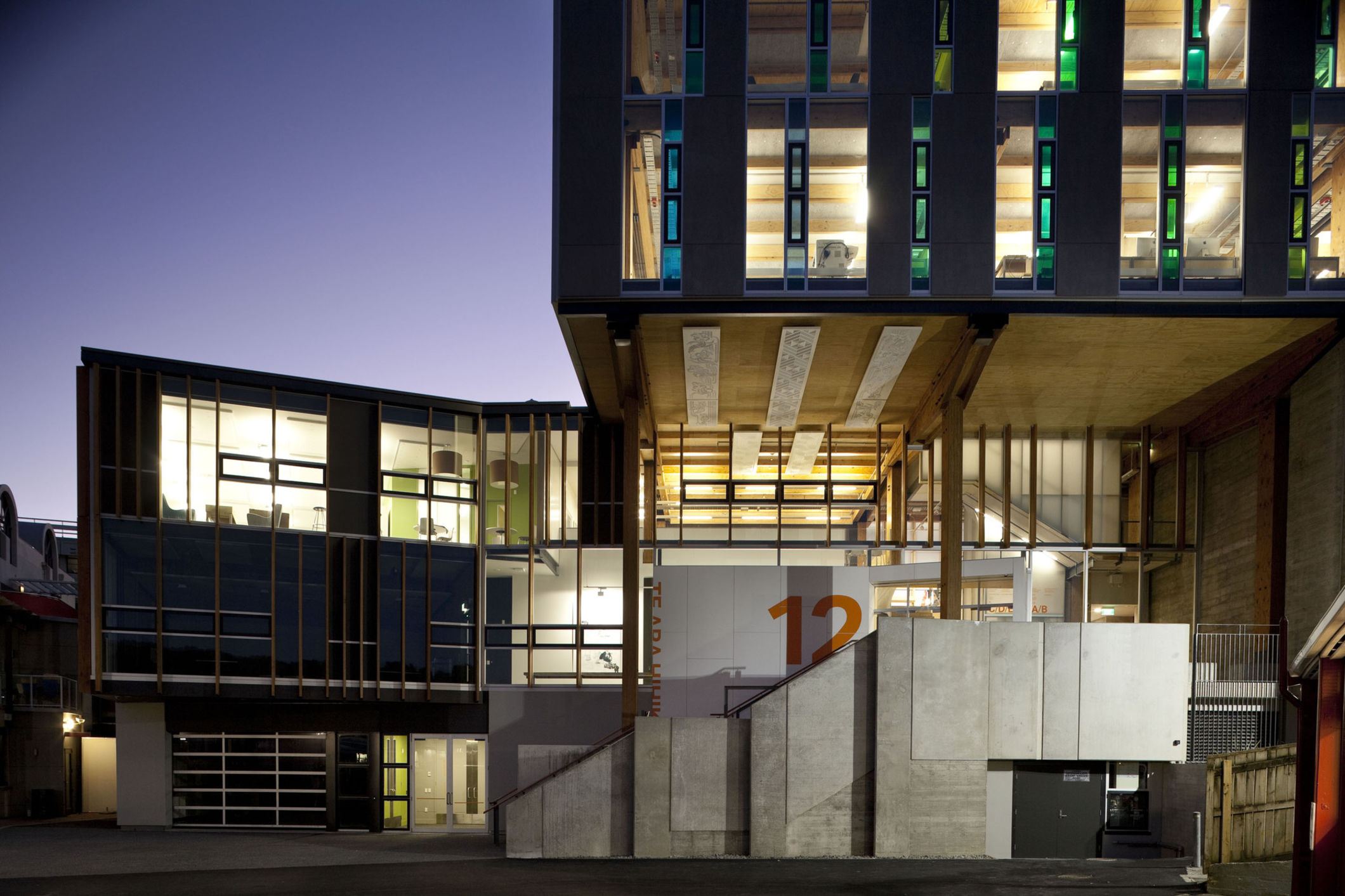 The building employs many environmental principles including a timber frame with low embodied energy, composite floor units combining the compressive thermal mass and acoustic properties of concrete with the tensile lightness of timber. Natural ventilation is also used throughout the building, and combined light and ventilation shafts centrally located within the building provide additional fresh air and daylight into the interior spaces. The exposure of timber in the frame and floor structure, in combination with a range of other raw materials, integrated with art installations such as the Jacob Scott carved ceiling panels, provides a robust, textured and inspiring framework and ambience for students to create and exhibitwork.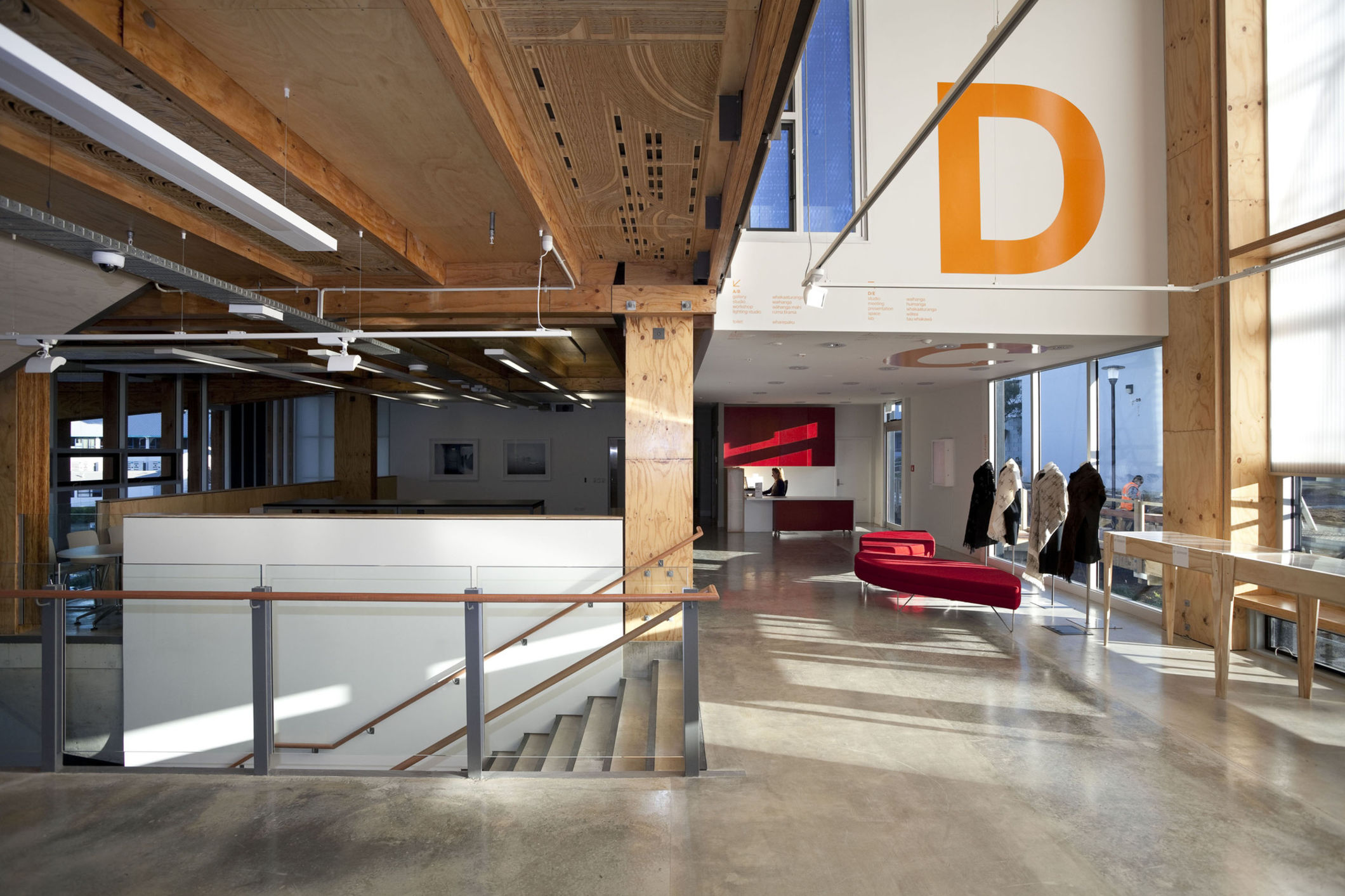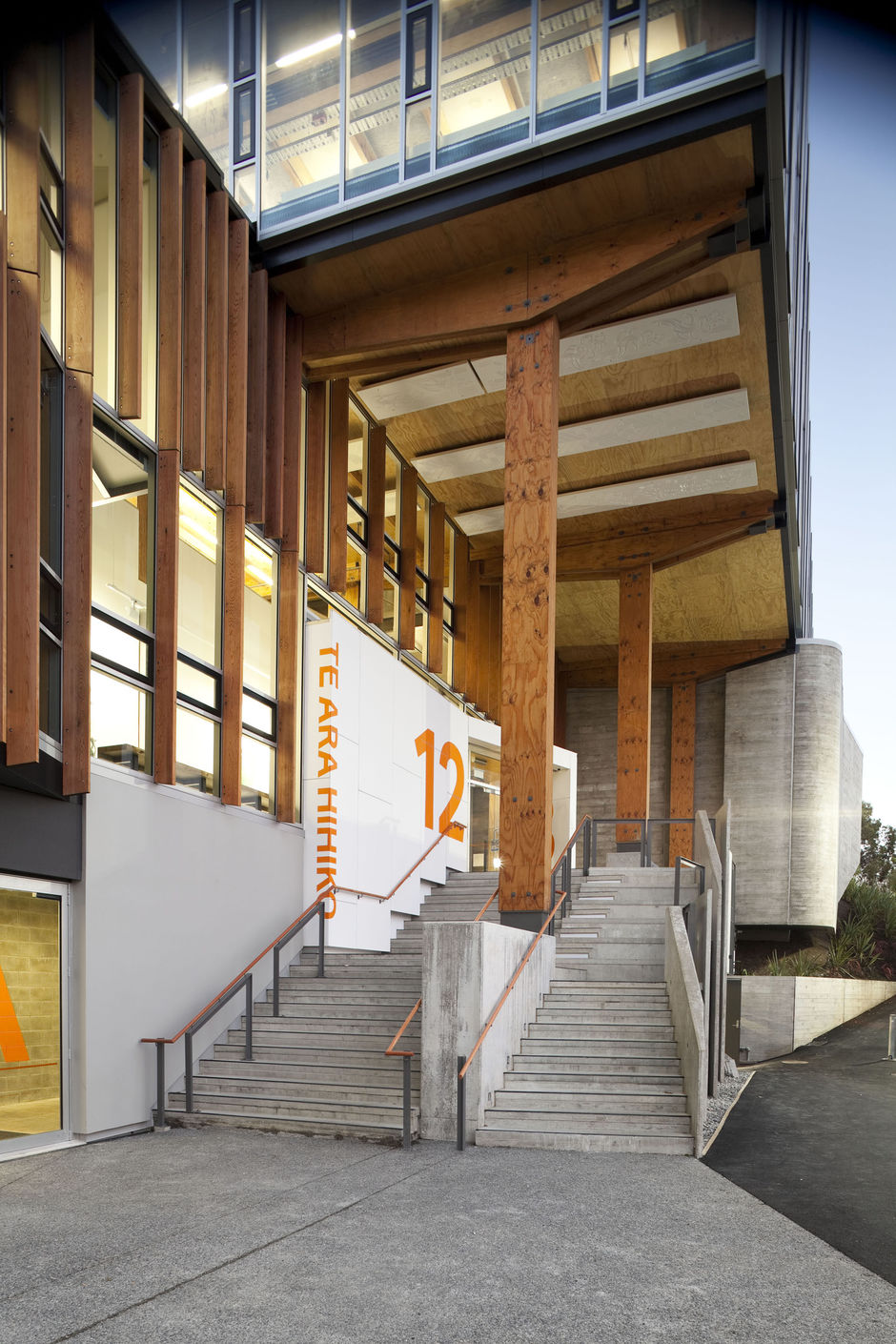 Through the centre of the building, at a junction between floating and grounded building elements, crossing from west to east, from high to low, are double height spaces that allow views through the building. Here the main gallery is centred, offering the building a strong centralised address to both upper and lower terraces. The completed building provides flexible open-plan studio teaching space as well as group research spaces, workshop, green-screen film studio, gallery and a multipurpose presentationspace.