 Cashel Street
Townhouses
10.63
Four townhouses at the top end of Cashel Street have replaced an earthquake damaged and demolished 1900's two storey weatherboard house, which had been converted into several bedsit flats. The new development is a balance between the concerns of providing medium-density multi-unit accommodation specifically designed for rental, and an arrangement of building blocks and outdoor spaces to respect mutual privacy and sunlight/outlook on-site and to adjoiningneighbours.
Rather than a straight like-for-like scenario which typically results on long narrow sites in an extruded sausage block with car parking facing the street, here one townhouse addresses the street front and screens the covered car parking in between the block of three townhouses at the rear of the site. Each townhouse is 90m2 with open-plan living, kitchen and laundry on the lower level, and two bedrooms each with a skylight ensuite on the upper level. Entry is via a private communal walkway; each townhouse has its own private outdoor living area accessed with large full height sliding doors from the living areas, facing either north or west to maximise the afternoon sun. Prominent existing trees at the front and rear of the site have beenmaintained.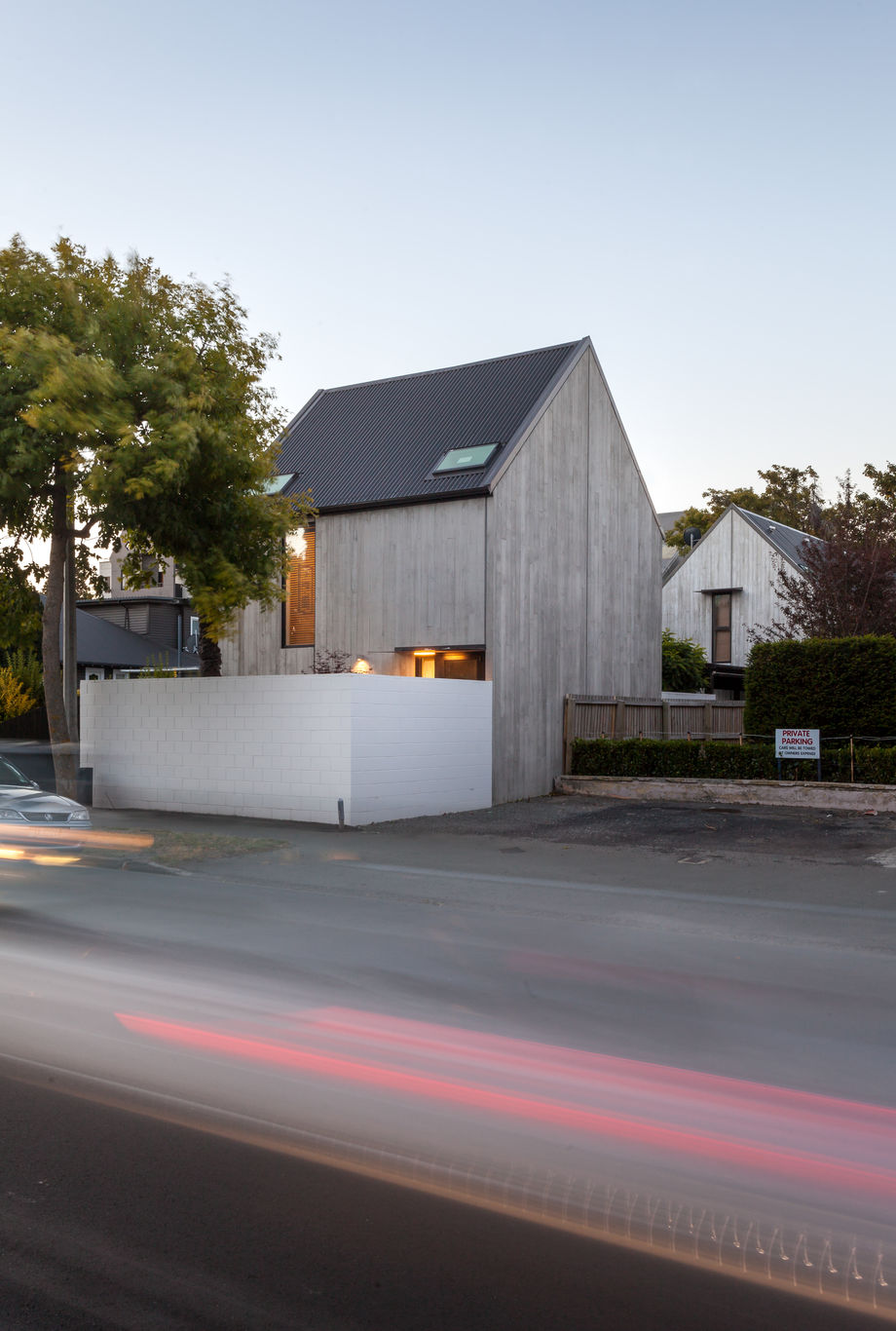 Simple gable forms, rotated to create interest and variety, are designed to align with the existing residential street character. A strong and robust palette of materials include precast concrete panels with sawn timber formwork, folded mild steel canopies, black aluminium joinery and cedar cladding to the entry alcoves. Internally, clean lines and neutral materials allow the light to spill in and the spaces connect with the courtyards, with full height glazing into the bedrooms on the upper level to provide vistas towards the greenery of the BotanicGardens.