 Moore
Wilson's
86.91
Moore Wilson's is an iconic Wellington wholesaler meeting the needs of the region's food service industry and private households. The business and it's original Tory Street site have developed over a number of years. Our relationship with Moore Wilson's began in 1985 with an adaptation of an existing building and an extension to the south of thesite.
Prior to instigating this project, the client visited contemporary supermarket developments in the USA and was impressed with the unorthodox façades of buildings produced for Best Products by the firm SITE in the 1970's and 80's. Evoking critique of an otherwise bland building typology, these notions were incorporated into the new addition with a façade cleaved by an axe, a glass box at the corner teetering one level above passers-by, and boldly colouredforms.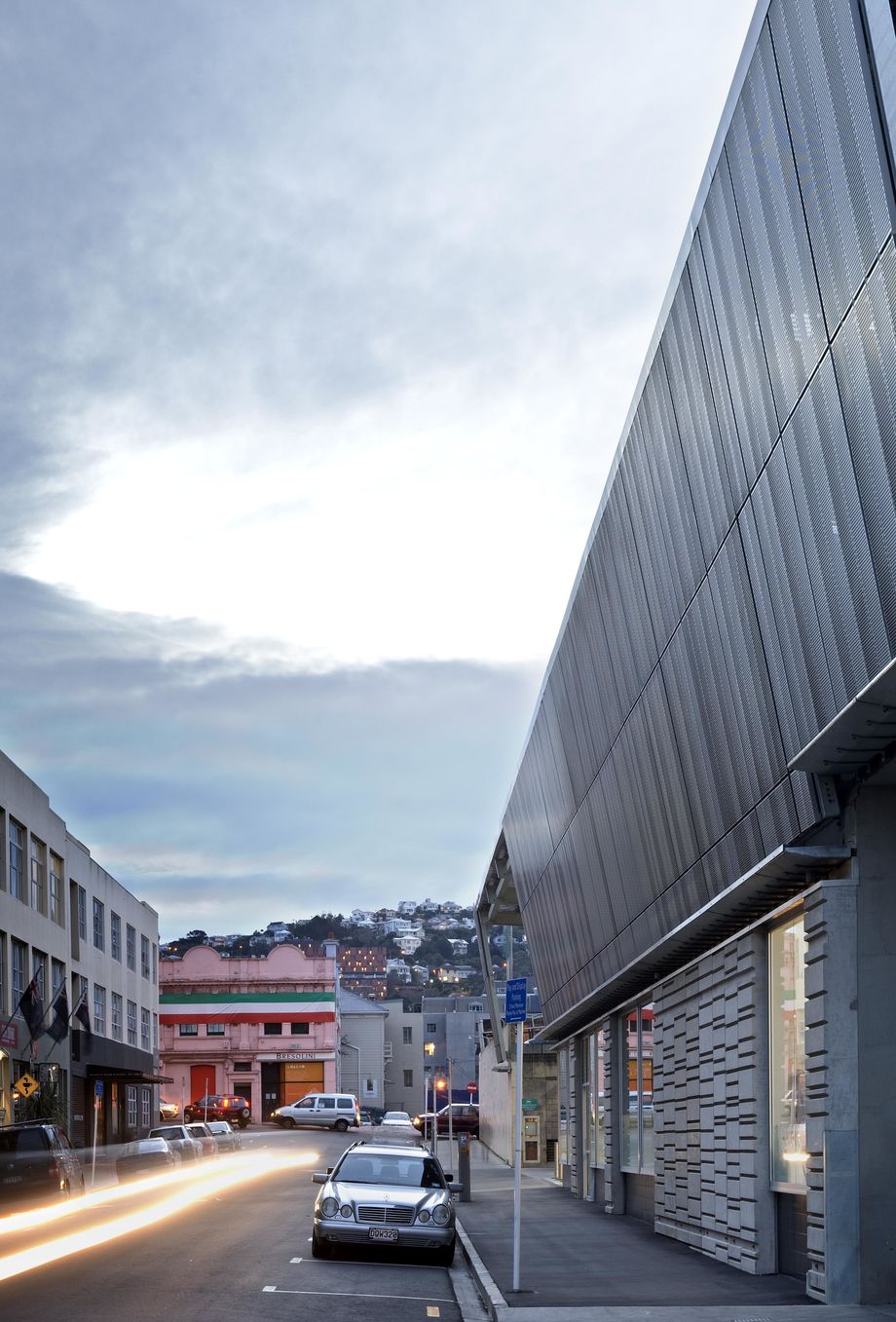 As the business has grown, the practice has continued to contribute to new buildings in Lower Hutt, Porirua and Masterton, along with building extensions to the original Tory St Site. The latest project houses an expanded 'Fresh' component of the business and additional carparking.
The project aimed to bring an element of design consistency and legibility to the overall assemblage of buildings that comprise the Moore Wilson complex, while respecting the existing development patterns, building types, and eclectic composition that make the siteunique.
The development took the opportunity to provide a new sequence of spaces for the public within the site, and cement the identity of the place as a working light industrial urbanmarket.
The design utilises perforated metal panels, glazing and cast concrete to balance visual permeability and street level vitality with the need to enclose parking and building services. A pedestrian plaza featuring sculpture, seating and water supply for pets adds a social component to thedevelopment.
The client's strong commitment to the display of New Zealand art in a public setting saw the commissioning of the Paul Dibble artwork which occupies the paved pedestrianplaza.